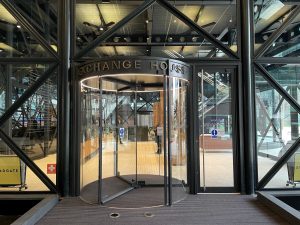 Jack Aluminium's TD68 and JCW systems have featured in a new entrance to London's Exchange House.
Essex-based fabricator, IDF Aluminium, collaborated with revolving door suppliers, Boon Edam, to provide a new entrance for this impressive building. Located in Broadgate, in the City of London, Exchange House is an innovative 'building-bridge hybrid', featuring four structural arches to bear the load of the building, which runs directly over 18 railway lines.
The new entrance features a revolving door, a single access door and curtain walling. IDF installed the TD68 access door, as well as curtain walling using the JCW system.
"This was an exciting project to work on in the City of London. It's an impressive building and we're really happy to have been chosen to install the new entrance," says Will Woods, Director at IDF Aluminium.
"Working with Jack Aluminium is great because I can get a system which works for pretty much any product I need. We use the TD68 a lot because it's a great entrance door system and being able to get curtain walling from them also makes my life a lot easier.
"On top of all that, their service is fantastic. The aluminium market has obviously been tough recently, but they've been very upfront and honest throughout and have kept communicating with us which has been very reassuring."
Having passed the stringent STS 202 test, the TD68 thermal door and shopfront system is a highly popular choice for commercial buildings where higher security is needed.
"Being situated in such a busy part of London, durability and security were crucial to the entrance of this building, making the TD68 the perfect solution," adds Ash Pearson, Sales Manager at Jack Aluminium.
"IDF are a fantastic company who work on some impressive projects, and it's great to see them installing our commercial aluminium products in some very notable locations across the country."
For more information, please visit www.jackaluminium.co.uk