STS202 is changing the game for security standards across the construction sector. Ash Pearson, Sales Manager at Jack Aluminium, talks to Metal in Architecture about the specification and what security benefits it can offer for buildings.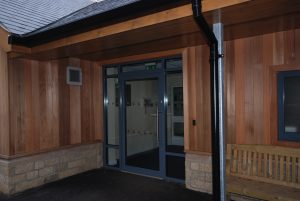 Security: it should always be a concern, but never an issue. When it comes to the design and specification of a project, your clients will likely be heavily concerned with the security and safety of their building. Alongside thermal and acoustic efficiency, builders, developers, and end-users will want the reassurance that their building or renovation project will be safe, secure, and designed with their needs in mind.
This is important, regardless of whether or not the building is designed for commercial or residential use. Entry-point such as doors and windows are naturally going to be targets for theft, particularly for commercial buildings. Currently, the minimum standard for glazed window and door security is PAS24:2016, which is a prerequisite for Secured by Design (SBD) accreditation.
What is PAS24:2016?
According to PAS24, door sets and windows must be capable of offering a level of security suitable for dwellings and other buildings exposed to similar risk. This is normally coupled with the requirements of BS6375, which covers weather-tightness and other hardware considerations for windows and doors.
PAS24 accredits the door set as fit for purpose and the testing process is designed to mimic an attack by an opportunistic burglar, using tools that would be easy to conceal. PAS24 offers a rigorous testing procedure which focusses on the whole frame, testing for vulnerabilities in the system which would allow a burglar to gain entry. PAS24:2016 has set a universal standard for the industry and has been instrumental in maintaining a level of accountability for contractors and fabricators.
STS202: Burglary Resistance
The updated STS202 standard is a requirement for burglary resistance on a range of construction products, such as door sets, windows, curtain walling, shutters, garage doors, etc. STS202 specifies the use of a range of attack tools that would ordinarily be used by "professional" criminals attempting to gain entry.
The tests focus on high-intensity, consistent attacks on the door set itself, locking cylinders, beading, and most importantly the glazing unit. These standards far surpass the type of attack ordinarily perpetrated by an opportunistic thief or burglar. Both tests offer strict standards that certify door sets as offering solid levels of resistance, however STS202 specify a range of attacks which focus on areas most likely to be targeted by burglars, such as glazing units.
Each system is graded along a scale of Burglary Resistance (BR), from BR1 through to BR6. Naturally, BR1 offers a lower grade security rating and BR6 a higher one. Similar to the LPS1175 Security Rating (SR) system, of which STS202-BR is equivalent to. BR1 and BR2 focus on low-noise break-in attempts which commonly use levers, physical force, and hand tools such as spanners, lock picks, and screwdrivers.
Unlike PAS24, which is a pass/fail certification system, the different grades of burglary resistance provide an indication of how well each system would fare against a prolonged, sustained attack on each of its key components.
Ordinarily, increased security performance comes at the expense of aesthetics, and projects can quickly become compromised due to an overly attentive lean on the most minute details in order to give your client that extra peace of mind. By testing glazed doors and shopfront systems to a higher standard, we remove the need for gratuitous security measures that compromise the look and feel of a building.
What does it mean for the industry?
An increased reliance on high-security systems can only mean great things for those of us working in the construction industry. Buildings are more secure as key entrance points that would usually be vulnerable, such as windows and doors are far more difficult to enter. Even for experienced criminals.
Clients in commercial or retail sectors will naturally want a higher degree of security than what is normally offered by PAS24 and its certification for windows and doors in a residential property. More robust, high- security options are crucial for protecting a client's stock, assets, or anything of value to would-be thieves.
As the STS202-BR standard is adopted by the sector, it also means that architects and specifiers are able to recommend or choose door systems that offer higher levels of security. When standards for products rise across the board, so too does confidence in our industry.
We should be offering higher levels of security as standard, without any unnecessary need to adapt or change a product to suit a project's security demands.  At Jack Aluminium, we want to practice what we preach, so we had our TD68 system accredited to STS202-BR2. This required no changes to our design or manufacturing process, which means that this extra peace of mind doesn't come at the expense of lead times.
By expanding our range of fully tested commercial door options to meet today's market demand, we can give architects and specifiers a full suite of high-performing door options that provide the excellent levels of security necessary for high-specification commercial projects.
When choosing windows and door sets for a property, save you and your client valuable time on site by choosing systems accredited with STS202-BR. A more robust and comprehensive security testing option that offers peace of mind, without the need to compromise on design.