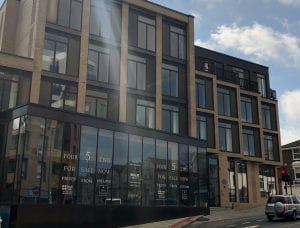 A multimillion pound development of 13 apartments – complete with panoramic views of London's Hampstead Heath – have received an exciting new look from Jack Aluminium.
IDF Aluminium Ltd installed Jack Aluminium's JCW curtain walling system and a series of commercial door sets as part of the residential project.
Four5Two, on Finchley Road in North London, features two and three bedroom apartments with terraces, rear balconies and private underground parking.
Jack Aluminium's JCW curtain walling system helped to create the impressive ground floor façade at Four5Two, which will soon become a thriving retail area.
The TD68 Thermal Door and Shopfront System is one of the most thermally-efficient, high-usage commercial aluminium door systems on the market. The robust system is used for areas expecting heavy footfall, like the retail space within the Four5Two development. It also offers fantastic thermal and security benefits for a new-build project.
William Woods, director of IDF Aluminium Ltd, said the contract came to IDF Aluminium Ltd, after designers developed their initial concept.
He says: "Once the plans had been drawn up, we knew we were going to propose Jack Aluminium's JCW curtain walling system.
"In 2018, we got to see the initial design and then we approached Jack Aluminium to talk about the project at Four5Two. The contract we secured was to install the ground floor façade, which was going to be the retail area.
"The curtain walling wraps around two corners of the building, which looks really eye-catching. As well as that, we used the TD68 Thermal Door as part of the commercial entrances because I think it is the best, high-usage aluminium door system on the market.
"When the retail units are eventually in use, they'll look really good – thanks to all the glass work. Obviously, they will let in an enormous amount of natural light because of the glazing."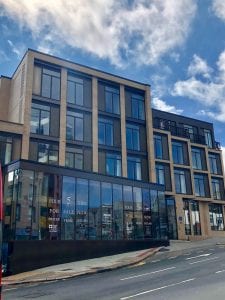 Jack Aluminium teamed up with Essex-based IDF Aluminium Ltd – a design, manufacture and installation company, to measure, quote and supply the aluminium for Four5Two.
The development offers buyers the chance to sample luxury city living close to the centre of London.
With floor to ceiling glass to maximise light and capture the stunning views of rolling woodland and rustic meadows, each apartment at Four5Two is on the market for around £1m and above. The location of Four5Two is ideal for buyers looking for the perfect blend of rural life but with strong city links.
Essex-based IDF Aluminium Ltd, asked Jack Aluminium, to quote for the job after working on a series of successful projects together.
William from IDF Aluminium Ltd, explains the relationship he has with Jack Aluminium.
He says: "We've worked with Jack Aluminium a number of times and the service is always brilliant.
"We have got a superb partnership with the team and everything works well, which is important when you're facing installation deadlines.
"At this fit, we put two men on the job and they were on site for between three and four weeks. Each piece of glass weighed more than 300 kilos and we needed to use a crane to position it accurately. Despite this, we were literally in and out and that's how we like it.
"The glass corners are impressive. I think it really frames the look of the new development."